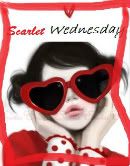 Hello blogger friends!
It's time for Scarlet Wednesday.
Sorry for my late post for some changes of my day off,
that I wasn't able to post it earlier for you.
But now, I'm already free and time for my RED post for this week.
This photo was very memorable for me cos' this was my first time
to work on the hospital, and also my first time
to be assigned at the ER (Emergency Room)
and meet new good friends.
So join me here every Wednesday for the parade of REDS
and meet new friends!
Have fun everyone!