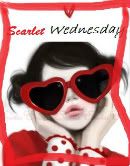 It's Scarlet Wednesday once again!
I was a little bit earlier for my post since
I have something important to do later and was kind of busy
lately for the preparation of my upcoming wedding.
for being my first linker last week.
Thank you very much Mr. McElveen for supporting Scarlet Wednesday.
I was hoping that you will continue supporting my meme.
So who will be my next featured blog for next week?
We'll see who's gonna be our first linker for today.
For my second post for Scarlet Wednesday,
I will share with you a place I love to visit in Cebu.
This is the first time me and hubby went to Cebu for our review
for the Nursing Board Examination.
Because of too much pressure of studying,
I decided to invite him to stroll Cebu and have some time together.
After all we need some break, and we haven't had our date lately.
Here were some photo's taken at the
Cebu Taoist Temple
at the entrance
going in, you will going to pass a bridge, somewhat like the
Great Wall of China
a pose of my hubby with the overview of the temple behind
going up to the chapel and prayer room
another pose, now the two of us, good thing I've brought my tripod
another entrance to the temple located at the back.
There were lots of beautiful places and lots of reasons why visit Cebu.
These were just one scenic place,
more to be explored on my later posts.
So, stay tuned *wink*