Hi there everyone!
This is my first time to join the Five Question Friday meme.
I just hope that I'll be more consistent this time to update my blog from time to time. :)
So let's roll it!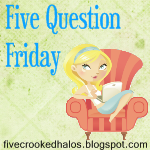 1. W

hat album/cd/download are you embarrassed to admit you have?
Music is my soul, and I always love any music genres. The only thing that makes me embarrassed is that music doesn't love my voice..lol
2. W
hat's the one thing your spouse does better than you?
Nothing, because actually I don't even have one..:)
3.
When do you start buying Halloween Candy?
I don't even buy one cos' actually we don't give candies during Halloweens.. Like that of the trick or treats..
4.
Family closets - Yay or nay?
Oh well, speaking of closets, I have a lot of dresses but my closet is not so big enough to accommodate them all..
5. W
hich home/cleaning chore do you hate the most? Why?
All of the above? hehehe.. kiddin' I'm a person who easily gets bored when I have nothing to do at home.. What just annoys me if I am being told to do a chore when I am doing something else.
So that's all for now,
Until next Friday everyone..